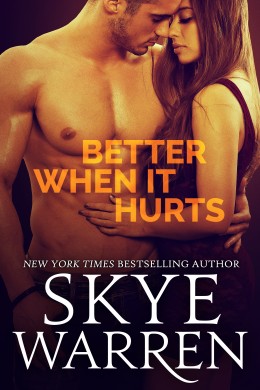 ~Blurb~
Five years ago we lived in the same house. He was the ultimate bad boy. And my foster brother. Now he's back. Tougher, harder, meaner. All of it aimed at me, because I was the one who sent him away. It's payback time. He wants his pound of flesh, and I am helpless to say no.

Hannah is a stripper, hiding behind the heels and lipstick persona of her stage name Lola. Hannah's life has known mostly abandonment and loss. And the one boy she ever really connected with back in foster care she betrayed.
"He looks like an avenging angel, and I'm the devil who needs to be slayed."
Blue suffered the consequences of Hannah's lie and now he's back in her life for revenge. He wants atonement from Hannah and he's willing to accept that in the form of her body—that's all for him and him alone.
"'You're going to walk down that hall and go inside my apartment. Then you're going to strip. I don't need to watch. I see you do that any night of the week. What I want is what comes after. You. On the couch. Facedown, ass in the air, ready to take whatever I give you.'"
The first half of the story is pretty light on any "romance." Their interactions are gritty, harsh, steeped in long standing issues of betrayal and coated in bitterness. Both Hannah and Blue are broken people, damaged souls who feel their connection but don't feel worthy.
"I need him to forgive me, to redeem me. I need him to hurt me at the same time I fear it. That's why I'm here—as much for me as for him. I shake with wanting it, with needing him, with longing for release."
As they attempt to settle the score though, their encounters transform, becoming sexier, steamier as they are less about revenge and more about healing.
"What he does to me is deeper than that. He roots out every old wound I have. And the salt is the tender way he kisses my mound, an intimacy that has everything and nothing to do with sex."
The prose is well composed, at time beautifully depicting their emotional states and the demons they wrestle with. However, the shift from revenge to redemption isn't entirely seamless. The edges of the story, like the characters, are a little rough and the ending feels a little rushed. I felt a bit of a disconnect somewhere that I can't entirely pinpoint. Told via Hannah's first person POV, Blue's feelings are somewhat of a mystery in the beginning, keeping the reader guessing on his exact end goal, which added a page turning quality to the story. But by the later half I felt like it would have been helpful to get a few chapters from his POV to make their transition from "enemies" to true lovers smoother, and I really wanted to see Hannah explain herself both to Blue and the details of their back story to the reader better.
But, all in all, it's an engaging, steamy read and if you like alpha males and some edgier love scenes, this is one to check out.
*Read an excerpt from the Release Blitz: HERE*
****************
Books in the Stripped series
½. Tough Love (prequel)
1. Love the Way You Lie
2. Better When It Hurts
3. Pretty When You Cry
Skye Warren
is the New York Times and USA Today Bestselling author of dark romantic fiction. Her books are raw, sexual and perversely romantic.